Services
Consultation
This time is set aside for you and your doctor to sit down, get to know one another and discuss your goals and expectations. Your doctor will take this time to learn more about you and your condition, as well as give you an overview of what to expect during the remainder of your visit.
Examination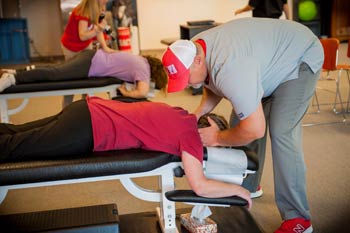 Simply put, posture is the "window" to your spine. Postural evaluation is critical and will be correlated with specific measurements on x-rays and other examination findings to determine the best course of action regarding your care. Posture is also one tool used to measure improvement and show signs of progress in our office.
"...Posture affects and moderates every physiological function from breathing to hormonal production."
-C. Norman Shealy, MD, Roger K. Cady, MD, et al; APJM, 1994, Vol.4p. 36
In the Journal of the American Medical Association, Freeman reported shifts in the body's center of gravity caused postural deviations leading to intestinal diverticula, hemorrhoids, leg varicosities, osteoporosis, hip and foot deformities, overall poor health and quality of life, and a shortened life span. -Freeman JT: Posture in the aging and aged body.
JAMA 1957; 1 65:7
In addition to a postural analysis, the examination consists of a thorough spinal and nervous system check. Other tests possibly performed are range of motion, balance and coordination, bilateral scales and whatever else is clinically indicated.
Spinal X-rays may be taken depending on your age and situation. X-rays give us important information including the position of the spinal bones and the quality of the spine and safety of adjusting it.
Nothing will be done in our office without your consent.